SeaWorld® Orlando
Guests are immersed in wonder at SeaWorld® Orlando, where the aquatic world comes alive like no place else. Walk down Sesame Street, connecting to all of the fun, laughter and learning of the world-famous street. Take a plunge down the world's tallest river rapids drop on Infinity Falls. Experience the predator power of MAKO®, Orlando's tallest, fastest, and longest coaster. Climb aboard and ride the mighty Manta®. Discover what it takes to care for an injured animal at SeaWorld Rescue™ Manatee Rehabilitation and experience one-of-a-kind attractions, thrilling coasters, and up-close animal interactions.
SeaWorld® Orlando has inspiring thrills and unique memories for your family. With three different theme parks to visit less than 20 minutes from Shades of Green, SeaWorld® Orlando has more fun than you can pack into one day. SeaWorld® Orlando is famous for its aquatic shows, exhibits, rides, and encounters. You'll find sea turtles, penguins, rays, dolphins and more, as well as themed roller coasters. Aquatica is SeaWorld®'s Waterpark with slides, fountains, wave pools, and other cool ways to make a splash. Finally, Discovery Cove is where you can go nose-to-nose with exotic fish, dolphins, and birds for hands-on wildlife adventures.
Shades of Green has a few different kinds of discounted tickets to all of the SeaWorld® Orlando theme parks and attractions. You can read more about your options and other adventures to choose from our price list. Click here for SeaWorld® Orlando parking information.
Ticket Request Form
Ready to order or have questions? Complete our online form to start the process of reserving your attraction tickets.
Start Request
Ticket Price List
Reserve ahead of time and save money on your entry tickets. Review our ticket offers.
Price List
Frequently Asked Questions
You have questions, we have answers. Check out a list of the most frequently asked questions to help with your planning.
Questions?
Sea World / Aquatica / Busch Gardens / Discovery Cove
Waves of Honor
Sea World is proud to salute the men and women of our armed forces and their families. Waves of Honor permits any U.S. active-duty military, activated or drilling reservist, or National Guardsman to one complimentary admission per year to either SeaWorld®, Busch Gardens®, or Sesame Place® for military personnel and as many as three direct dependents. Service members and their direct dependents must have a valid active military ID in order to participate. Inactive, standby and retired reserve members, military retirees, U.S. Merchant Marine, and civilian Department of Defense workers are ineligible for the program. SeaWorld Parks & Entertainment reserves the right to terminate the program. WavesOfHonor.com
| | |
| --- | --- |
| Military Promotional Tickets | Ages 3+ |
| SeaWorld Orlando Single Day | $ 66.75 |
| SeaWorld Orlando with All Day Dine Single Day | $ 91.75 |
| *Aquatica Orlando BO Single Day | $ 49.50 |
| *Aquatica Orlando with All Day Dine BO Single Day | $ 72.00 |
*BO - Blocked Out every Saturday in June & July
Above listed tickets are available for Active, retired & veterans plus up to 3 additional guests

| | |
| --- | --- |
| Single Day Tickets | Ages 3+ |
| SeaWorld Orlando | $ 100.50 |
| SeaWorld Orlando with All Day Dine (Special) | $ 132.75 |
| Aquatica Orlando | $ 48.25 |
| Aquatica Orlando with All Day Dine | $ 78.25 |
| Busch Gardens Tampa | $ 100.50 |
| Busch Gardens Tampa with All Day Dine | $ 132.75 |
| Adventure Island Tampa | $ 44.75 |
| | |
| --- | --- |
| Two Park Tickets | Ages 3+ |
| Two Parks | $ 98.75 |
| Two Parks plus Two All Day Dine | $ 157.50 |
| Two Parks + Two Meals (Entree and Side only) | $ 129.25 |
| | |
| --- | --- |
| Three Park Tickets | Ages 3+ |
| Three Parks | $ 134.00 |
| Three Parks plus Two All Day Dine | $ 187.75 |
| | |
| --- | --- |
| Unlimited Visits | Ages 3+ |
| Unlimited Visits for 14 Consecutive days plus Parking | $ 203.50 |
Unlimited visits for 14 consecutive days to SeaWorld, Aquatica, Busch Gardens & Adventure Island Tampa
| | |
| --- | --- |
| 2023 Fun Cards with Block Out Days | Ages 3+ |
| Aquatica Orlando | $ 103.50 |
| SeaWorld Orlando | $ 133.50 |
| Busch Gardens Tampa | $ 133.50 |
| Adventure Island Tampa | $ 83.25 |
| SeaWorld & Aquatica Orlando | $ 201.00 |
| Busch Gardens & Adventure Island Tampa | $ 189.00 |
| | |
| --- | --- |
| Silver Passes - Single Park | Ages 3+ |
| SeaWorld Orlando | $ 220.00 |
| Aquatica Orlando | $ 205.00 |
| Busch Gardens Tampa Bay | $ 220.00 |
| | |
| --- | --- |
| Silver Passes - Multi-Park | Ages 3+ |
| SeaWorld Orlando & Aquatica | $ 268.25 |
| Busch Gardens Tampa & Adventure Island | $ 259.25 |
| SeaWorld, Aquatica, Busch Gardens, Adventure Island | $ 325.75 |
| | |
| --- | --- |
| Discovery Cove | Ages 3+ |
| Day Resort Package - Single-day admission to Discovery Cove, plus 14 consecutive days of unlimited admission to SeaWorld and Aquatica. | $ 174.00 |
| Day Resort Ultimate Package - Single day admission to Discovery Cove, plus 14 consecutive days of unlimited admission to SeaWorld, Aquatica and Busch Gardens. Plus general parking. | $ 202.25 |
| Dolphin Interaction Package - Single Day admission to Discovery Cove with Dolphin Swim plus 14 consecutive days unlimited admission to SeaWorld and Aquatica. | $ 253.25 |
| Dolphin Interaction Ultimate Package - Single Day admission to Discovery Cove with Dolphin Swim, plus 14 consecutive days of admission to SeaWorld, Aquatica and Busch Gardens. Plus general parking. | $ 282.00 |
SeaVenture(s)
Ages 10+

Underwater walking tour while wearing a dive helmet
September 6, 2022 - December 18, 2022

$ 78.00

Underwater walking tour while wearing a dive helmet
December 19 - 31, 2022


$ 55.00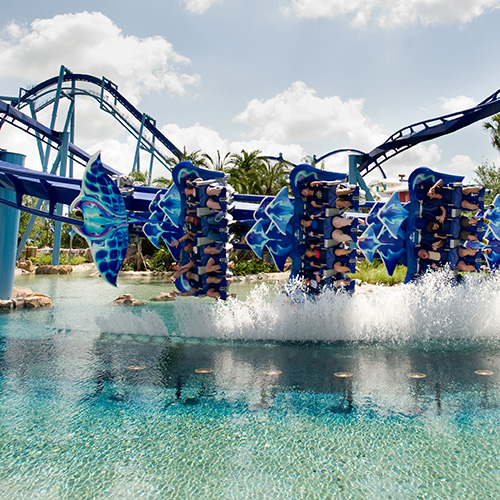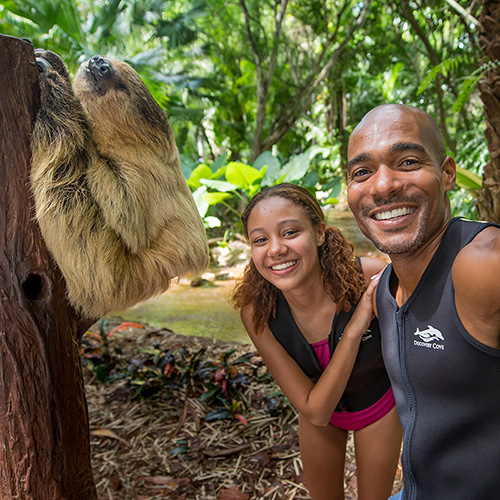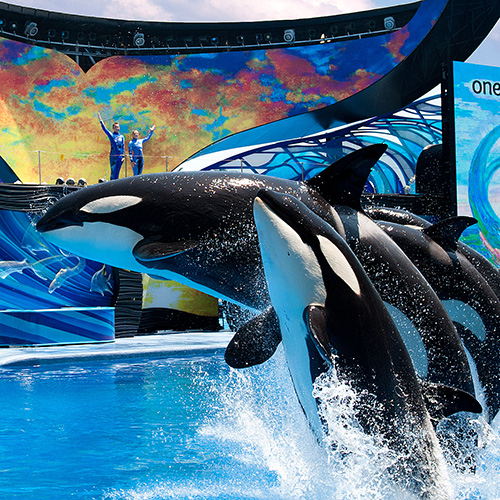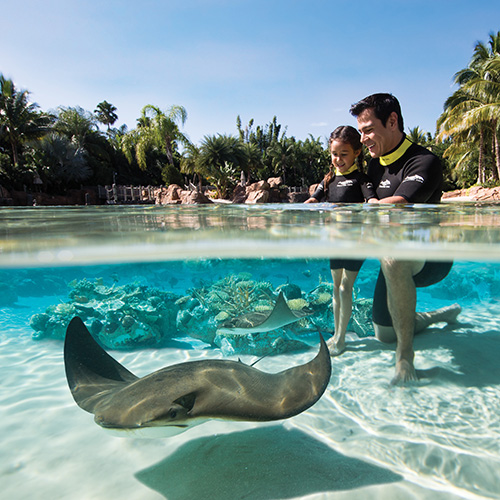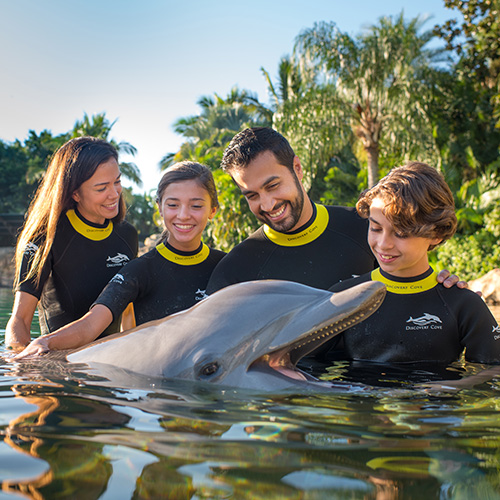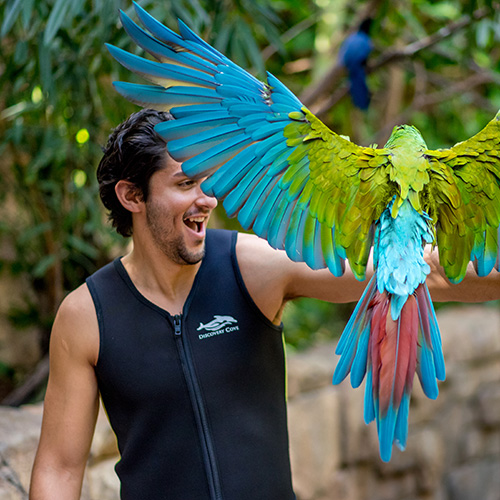 Photos ©SeaWorld Orlando