Generous Space
The generous (1,800 sq ft) suite has an incredible panoramic view overlooking the Disney Magnolia Golf Course from the comfort of your patio. The living room, with a sectional sofa and a 75" flat-screen TV, provides ample space for family gatherings. The adjacent dining area has room to accommodate 8-10 comfortably. Although the kitchen does not have a stove, it is equipped with a full-size refrigerator, microwave, dishwasher, 10-cup coffee maker, and dishes. A half bathroom is located near the laundry room that is furnished with a full-size washer and dryer.
The two-bedroom suite has two queen-sized beds and a single size sleeper sofa in each room with an adjacent bathroom. One of the bathrooms has a stand-up shower, and the other bathroom has a tub/shower combination. The suite can accommodate up to 10 people.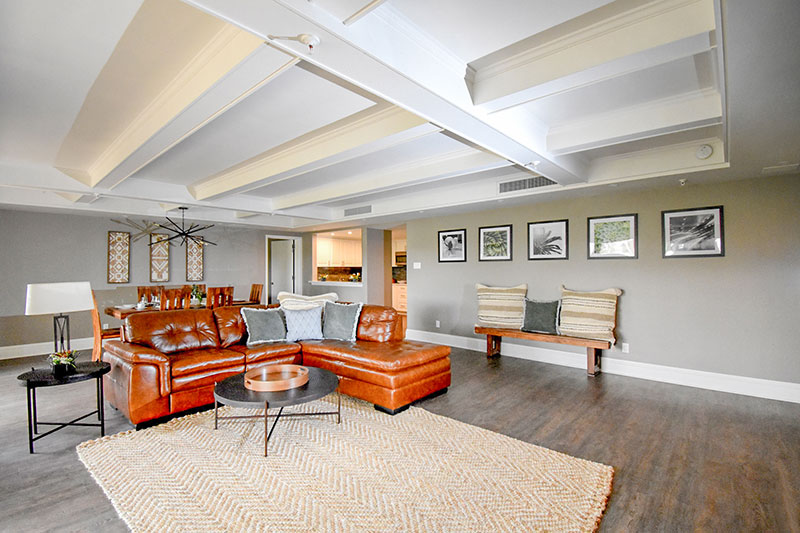 Four Queen Beds

Two Single Sleeper Sofas

One-75" flat screen TV

Two-55" flat screen TV

Free High-Speed Wireless Internet

Full-Size Refrigerator

10-Cup Coffee Maker and Condiments (Tea/Decaf Available Upon Request)

Full Size Washer and Dryer

TV-Cable

Free High-Speed Wireless Internet

Complimentary Bath Amenities

Extra Pillows and Blanket

Plush Towels

Separate bathtub and shower

Hair Dryer

Iron/ironing board

Corian Counter Tops/Vanities

Telephone - Two Phones/Voice Mail

Two-In-room safes
Room Rate Policies
Rooms for sponsored guests of Rate Category I will be charged at Rate Category III rates

Rate II: 100% Disabled with DD Form 1173, DD Form 2765 or DD Form 2

Rate III: DoD ID or Retired SF 50 required for check-in. Only foreign military with U.S. Travel Orders or assigned to a U.S. Military Installation (with unlimited DD1173, DD Form 2765)

Rates are subject to party size verification upon check-in.

Guestroom rates are subject to change without notice.
Reservation Policies
Prices for Suites include up to four adults per room.

You will be charged an additional $15 for each additional adult up to the stated limit per room.

Children under 18 are free with existing bedding.

Rollaway beds or cots are not allowed.

Adjoining/connecting rooms may be requested, but cannot be guaranteed until check-in.

Reservations are confirmed by room type, and not by specific location.

We try to accommodate special requests, however, we cannot guarantee to be able to fulfill these requests.

Room reservations may be accepted up to 365 days in advance of the arrival date of the requested stay.

Pets are not permitted (service animals only).

A $25 per-day hold will be placed on your credit card to use room-charging privileges.

Cancellation Fee: You may cancel up to 30 days before the start of your reservation without penalty. If you cancel within 30 days of your arrival, you will be charged one night's stay, per reserved room.

Early Departure Fee: After check-in, if your departure date changes, you will be charged one night's stay, per reserved room.

If a room is not available during the time you'd like to visit, please let us know. We'll do our best to alert you if space opens up. We also can help connect you to nearby hotels with special rates available for our guests, based on their availability, too. Remember, even if you stay at a different property, the Shades of Green spa and restaurants are still benefits available to you as an eligible guest.